The GSG-5 is a semi-automatic rimfire rifle chambered for the .22 LR cartridge and is produced by German Sport Guns. In many ways, the GSG-5 is an exact replica of the Heckler & Koch MP 5 sub-machinegun.

Ergonomics and handling are identical to that of the MP 5 with an overall length of 33.5" and a weight of 6.6 pounds which makes it an ideal training tool for law enforcement, military personnel and civilians. 22 long rifles offer an immense savings over 9mm/40/45 caliber ammunition allowing extensive range time with the GSG-5 at a minimal cost to the user.

Barrel length on the GSG-5 rifle is 16.25 inches including the faux suppressor which surpasses federal requirements, making it legal to own by anyone. The GSG-5 utilizes either a 22 or 10 rd detachable box magazine that releases with an H&K style paddle magazine release. The charging handle on the GSG-5 is located on the left side of the receiver and is non-reciprocating just like the H&K MP5 series.

The GSG-5 comes standard with a conventional MP 5 style stock and forend but American Tactical Imports also offers several different style stocks and tactical forends including a side-folding stock like the H&K MP5k-PDW and a retractable stock as offered on the H&K MP5A3. The GSG-5 comes with a standard H&K style forend but is upgradeable to a tactical railed forend that accepts tactical grips, lights and lasers.

The GSG-5 utilizes the H&K style drum sight, which can be adjusted for both windage and elevation. Accessories available for the GSG-5 include a claw mount with Picatinny rail allowing just about any optic from a tactical or hunting scope to a close quarters battle optic like a red dot sight to be mounted on the receiver. In addition to extra magazines ATI also offers a tactical magazine coupler for joining two magazines together, making for a faster reload. American Tactical Imports also offers an MP 5 SD style barrel/faux suppressor, which looks exactly like the original. Whether you are looking for a low cost tactical trainer or a fun plinker the GSG-5 rifle is a winning choice.

GSG5, 22LR,
MP5 Clone
GSG5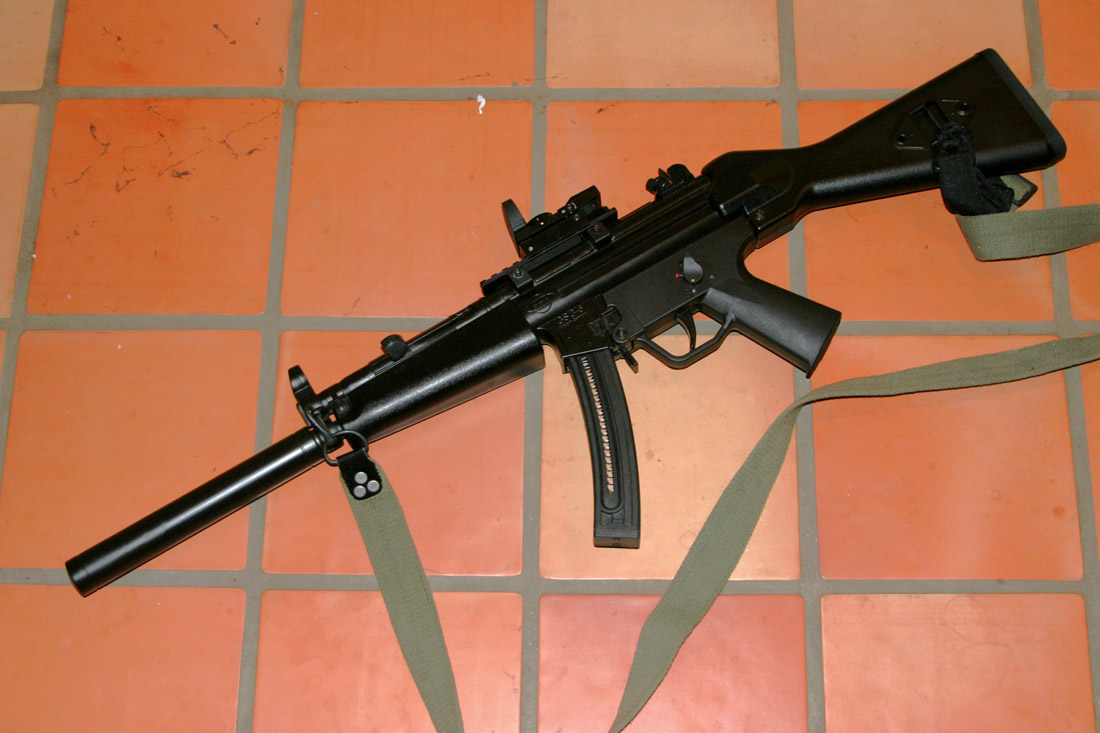 MP5 clone